David Riecks presented a key paper on photographic metadata May 7 at at the Archiving 2009 conference in Crystal City, Va. Riecks produced and shared the paper - titled
"The Lifecycle of Embedded Image Metadata within Digital Photographs: Challenges and Best Practices (or The Secret Life of Photo Metadata)"
- for the Stock Artists Alliance under the group's award from the Library of Congress' Preserving Creative America, National Digital Information Infrastructure Preservation Project. This year's Archiving conference drew about 150 attendees from some dozen countries. For details on the conference visit the
Imaging Science and Technology
website.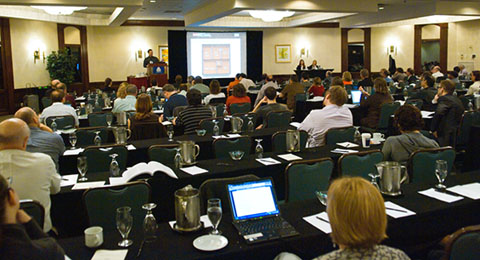 Riecks focused on how museums and libraries can use text information many professional photographers embed in their digital images, much as researchers use handwritten notes on the backs of prints.
This information can speed cultural heritage institutions' efforts to make those same images (once they become part of their collection) available to patrons in a digital format.
For details on the
Stock Artists Alliance Photo Metadata Project
visit
PhotoMetadata.org
.