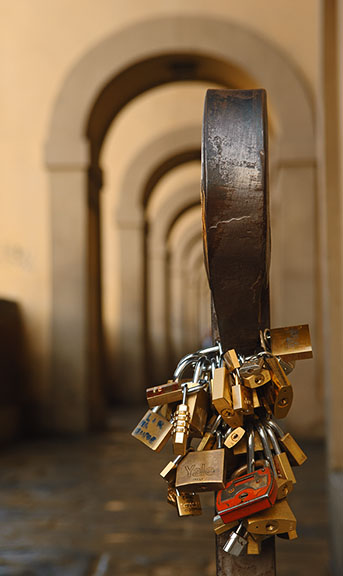 The UK has recently passed the Enterprise & Regulatory Reform Act by Royal Assent, which, among other things, creates a method by which "Orphan Works" can be exploited. Simply put, if you are unable to identify the copyright holder of any photo, drawing, painting, music, film, etc. -- after conducting a "diligent search"-- then it may be considered an "Orphan Work." This is a legitimate problem for many galleries, libraries, archives and museums that have acquired works over the years, as without knowing who created each, it's not possible to know whether copyright is still in effect. For example, If they use a photo to make a postcard to sell in their giftshop, and it turns out that the photographer is still alive they may find themselves in court fending off a copyright infringement.
In 2008 "orphan works" legislation was progressing through the US Congress. A bill did make it through the House, however no corresponding bill ever made it out of the Senate (you may recall fall 2008 was a little hectic what with near financial ruin due to the home mortgage derivatives market collapse). While many thought that would be the end of it, with the UK ERR act passage, this issue may be revisited sooner than some expected.
With all of this in mind, if you are going to share your images in the "World Wild West" here are some ways to make it easier to identify you as the creator/copyright holder of your digital photographs. Taking some (or all of these steps), should mean there's little chance that you'll find your images being labeled as "orphan works."
Some of the higher end digital SLR cameras allow you to add a Creator or Copyright Notice to the Exif metadata that is written to each image file just before it is saved from your camera to your memory card. Many Canon and Nikon models offer this in a number of their midrange or higher end digital cameras. On Nikon cameras you can enter an "Image Comment" using the controls on the back of the camera in the menu. On many Canon models, this is done using software provided by Canon, and then loading this info into your camera via a memory card.
Add Metadata post-capture
As soon as possible in your imaging workflow be sure to embed your Creator and Copyright information as photo metadata using IPTC and XMP standards. Use image applications, browsers or cataloging programs to put in your name as the Creator, and as the Copyright holder in all of the images you have taken before you upload them to the web or distribute to others. To make it easy for others to find you; you may also want to include some basic contact information. At minimum, include your website URL, if not your address, phone number or email address. The Meta tutorials on Photometadata.org will show you how to do this for a variety of applications.
For those of you using iOS "smart-devices" (iPhone & iPod Touch) cameras, check out Marksta, an app that you can use right after you capture an image to add up to about 20 IPTC/XMP metadata values.
Create a visible watermark that you can place over each of your images. There are numerous tutorials that show you how to do this with Photoshop, Photo Mechanic, Breeze Browser and other applications. I just discovered recently, you can even do this with the free Picasa application from Google (Use the File >> Export Picture To Folder option). If you are using an iOS "smart-device" (like the iPhone or iPod Touch with cameras), Marksta can apply a visible watermark as well as embed your contact and copyright info.
Carefully Choose Where You Upload Your Images
You will have the most control if you upload and share images from your own website. If you are going to use other services, be sure to first read their terms of service. In addition, you want to make sure that they are not "stripping" your metadata from the images being displayed. The Embedded Metadata Manifesto website has a chart showing which Social Media Networks preserve photo metadata.
http://www.embeddedmetadata.org/social-media-test-results.php
The Picture Licensing Universal System Coalition is an international non-profit organization with a tightly focused mission: to simplify and facilitate the communication and management of image rights. PLUS membership is free, and allows you to add a Registry listing. Clients will be able to search for you by name, and even search for your images (using an image recognition engine). The PLUS Registry will serve as a global, multilingual hub for other registries, and will allow registration and search using third-party applications and plug-ins.
Register Your Images with the US Copyright Office
This isn't only for US Citizens. Registering your images gives you additional protections, such as being able to ask for statutory damages and attorney fees if you win an infringement case. Detailed info can be found in the ASMP Copyright Tutorial.
Lastly, while it's not going to immediately help your own case, please consider supporting the Embedded Metadata Manifesto
and lobby against the stripping of metadata from all digital files.